Accommodating Food Allergies
・For guests with food allergies, we will endeavor to accommodate your needs to the best of our ability if the notification is submitted at least three days prior to your arrival date. , In such cases, we request that you submit the Pre-Stay Questionnaire Regarding Food Allergies, which we will provide you, to review how we can accommodate your requirements.
We will strive to eliminate individual allergens, such as shrimp for shrimp allergies, to the best of our ability. However, we may not be able to accommodate all allergens as flour, soy, and other ingredients may be contained in condiments, making it more challenging to isolate and eliminate individually.
Moreover, sensitivity to allergens varies by individual. While we may be able to eliminate certain food ingredients, we will not be able to completely eliminate trace amounts that may be present on cookware used for hotpots and other dishes.
Due to the operational constraints of our ryokan (traditional inn), it may be challenging for us to fully accommodate your requirements, and therefore, we cannot assume responsibility for your food allergies. For your safety, if you have severe allergies, please consult with your physician in advance.
Chef Yoshiharu Ebiko
Click here for the online questionnaire >>      Click here to print and fill out >>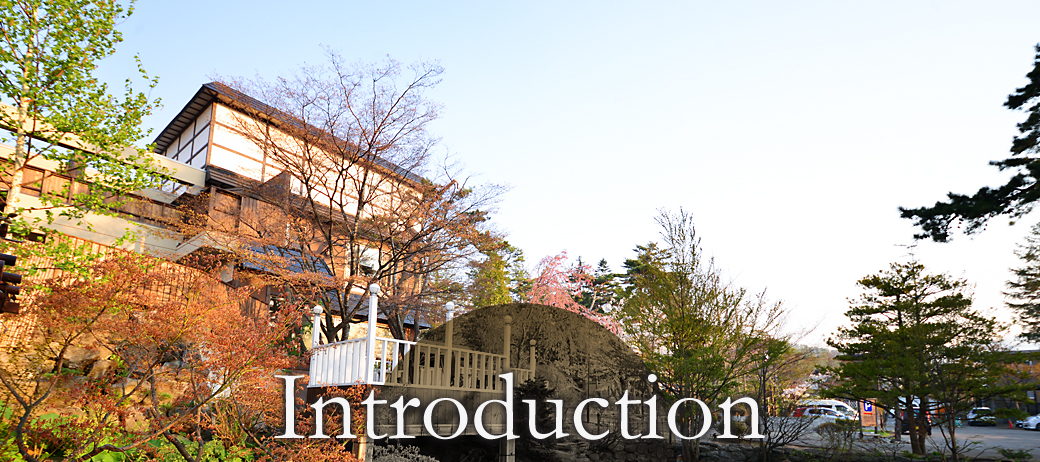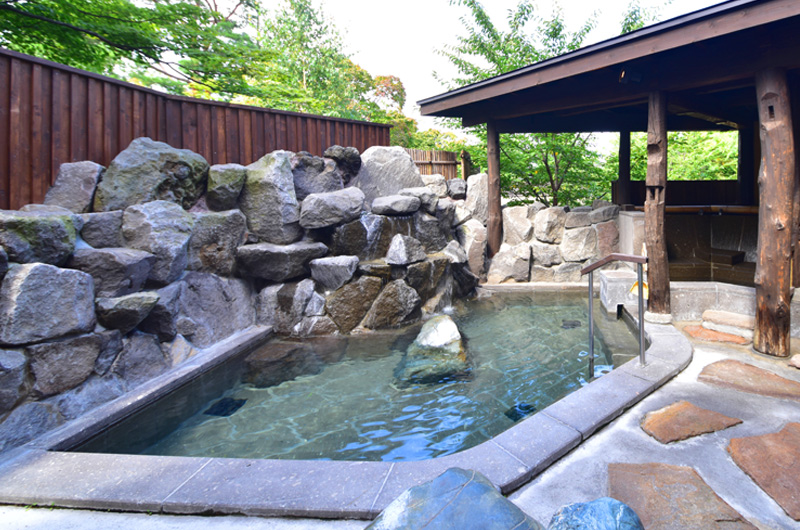 Hot spring water with skin-beautfying effect.
美肌効果のある温泉
---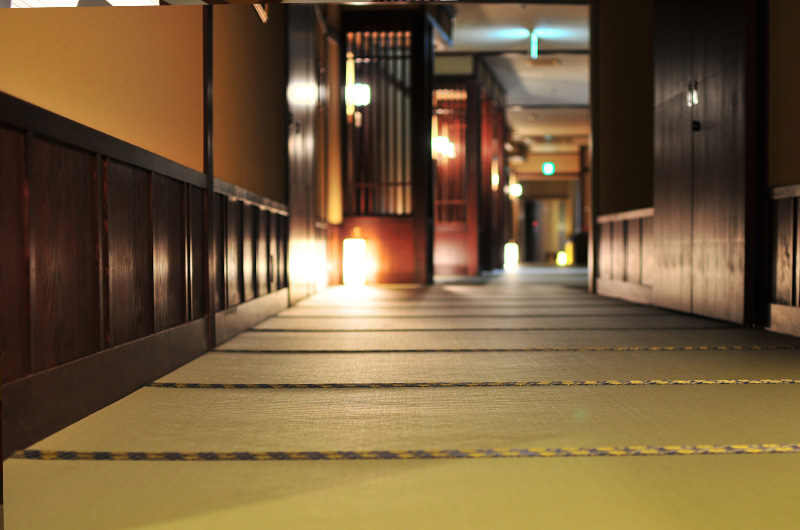 Tatami flooring in the hall and corridor and guest room
館内は廊下も客室も畳敷き
---
---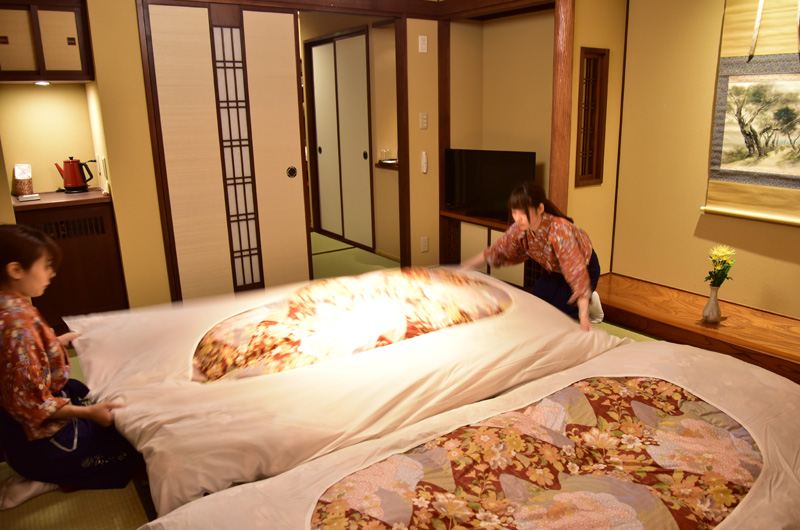 We interact with all guests with the spirit of "Omotenashi"(Japanese hospitality)
心をこめたおもてなし
---
Basic Information
| | |
| --- | --- |
| In/Out | 15:00/11:00 |
| Style of accommodation | Japanese room |
| Toilets | Western style & Toilet with shower |
| Meals available | Evening meal & breakfast |
| Number of rooms | 34 rooms |
| Capacity | 160 people |
| Smoking/Non-smoking | Non-Smoking |
| English speaking ability | Yes |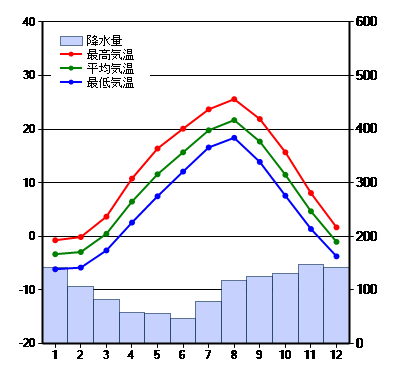 Hokkaido Prefecture Otaru of climate
( Temperature and precipitation )
Otaru annual average temperature : 12.3 ℃
annual precipitation : 1232mm
statistics period : 1981-2010
Caution
Our standard policy is a per-person charge which entitles each guest to one dinner and one breakfast for each night of stay, with a limit of 2 to 6 people per room.
Japanese Hospitality - OMOTENASHI -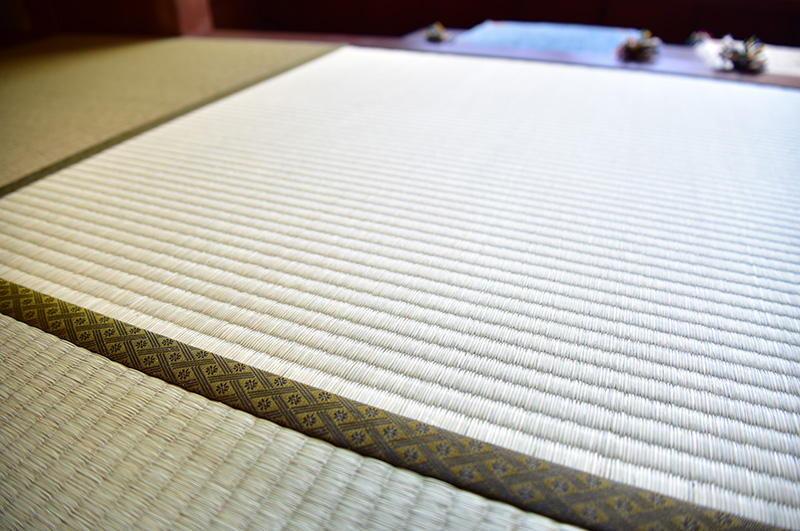 Tatami room
畳
A tatami is a mat used to cover the floor in a Japanese room.
It's made of bundled straw and covered with tightly woven rushes called igusa.Japanese sit down and lie directly on the tatami taking off their shoes here.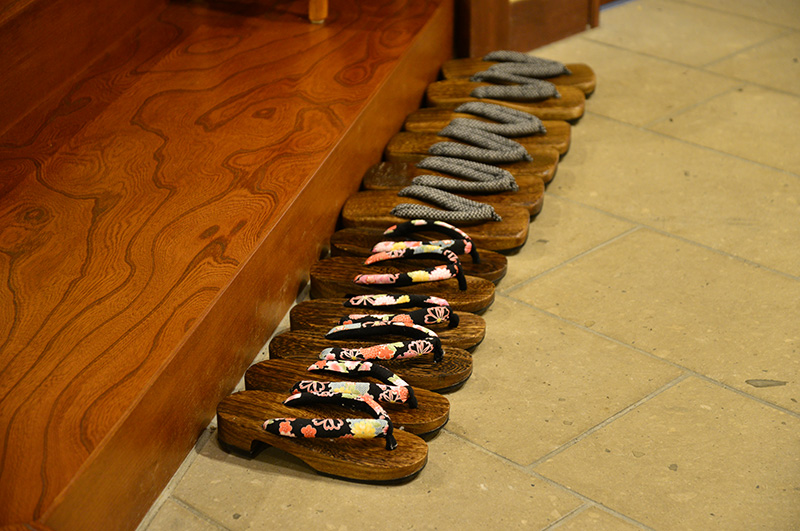 Japanese leather-soled sandals
下駄
Please take off your shoes within the hotel area.
When moving between facilities in the hotel, please use "Geta"(Japanese leather-soled sandals).
---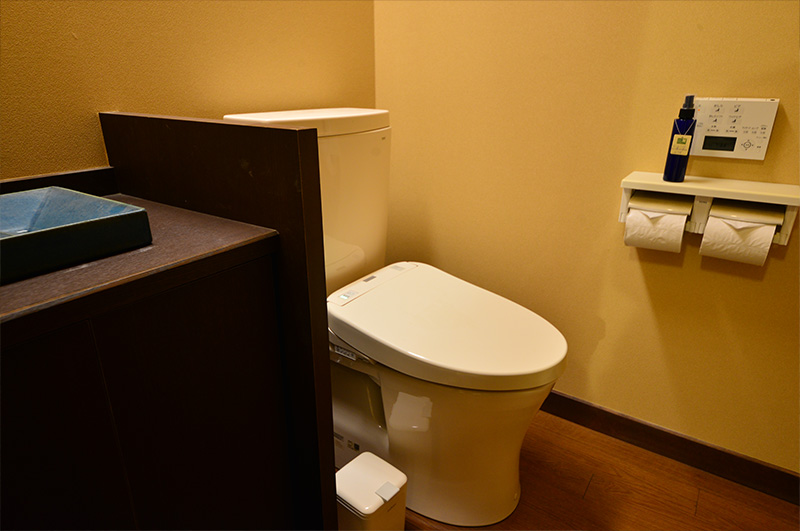 Toilet with shower
シャワー付きトイレ
The Japanese have been using toilets with shower for over 30 years.
These toilets allow you to wash yourself with water of a comfortable temperature, and to dry yourself with breezy air.
These toilets are also equipped with heated seats and bidet.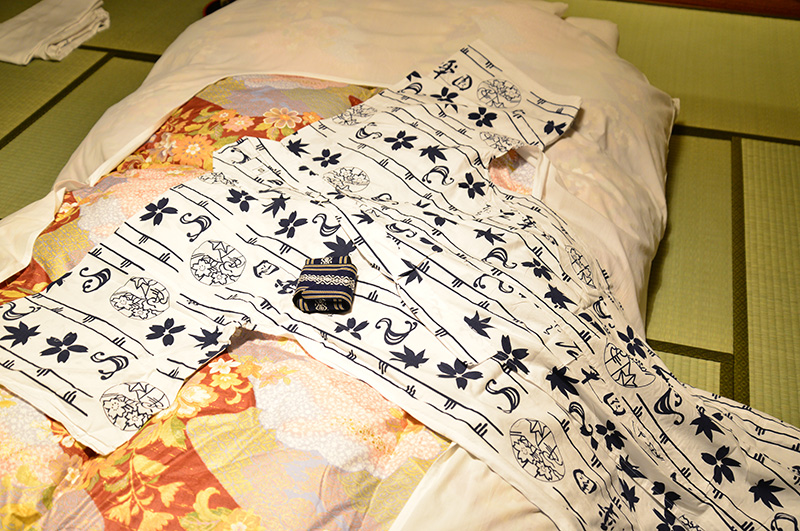 Yukata
浴衣
You will find a yukata in the guest room.
Yukata is a kimono-style sleepwear.
You can also wear this to the public bath or to the public eating area.
There are Samue and pajamas in the guest room.
※Samue is traditional Japanese home wear which has become the top and bottom set.
---
Futon
布団
At night, you sleep in futon on the tatami floor except certain guest rooms. The staff will spread out the futon on the tatami floor after you've finished the dinner.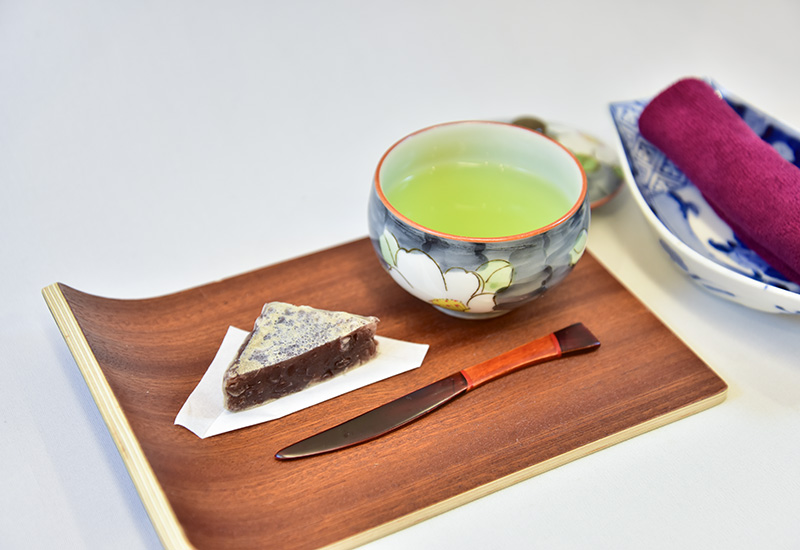 Japanese tea and snacks to go with tea
日本茶とお茶請け
We'll serve you with Japanese green tea as a welcome drink upon your arrival.
Please also enjoy delicious Japanese confectionery together.
---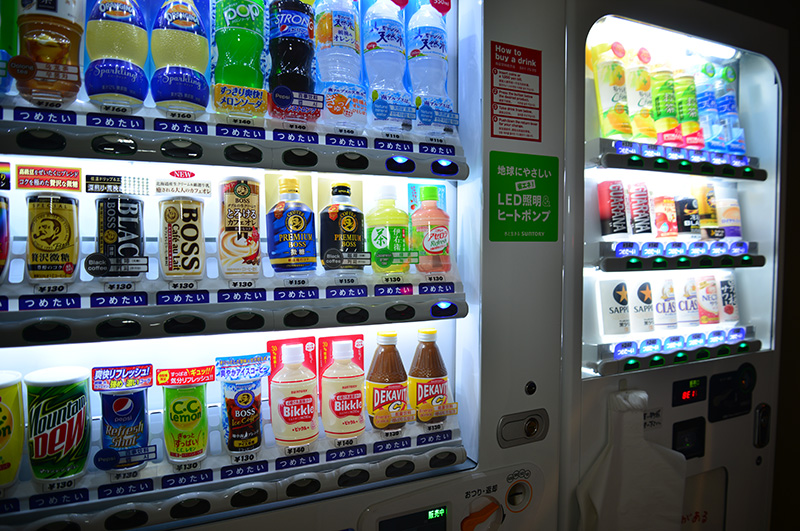 Automatic vending machine
自動販売機
A machine that gives out drinks you desired when coins or notes are inserted.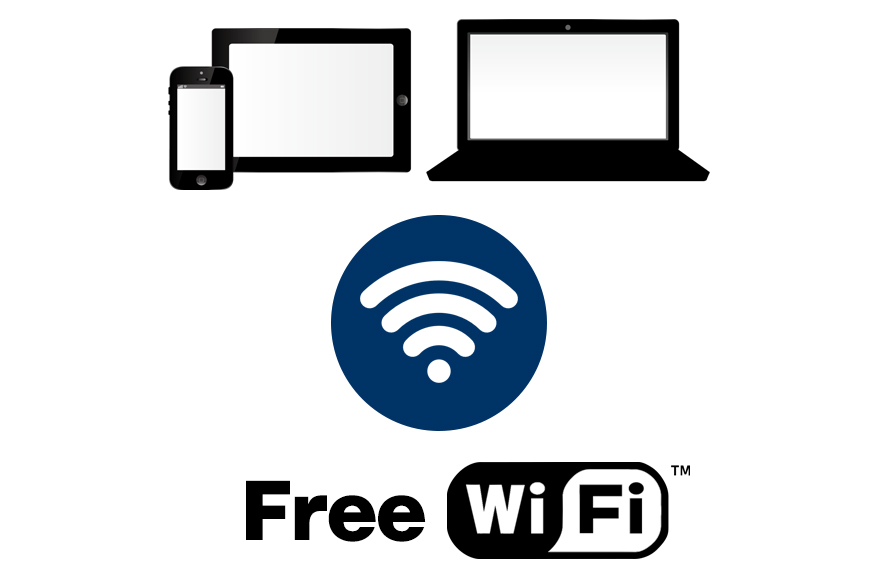 Internet access
インターネット
Free internet access is available.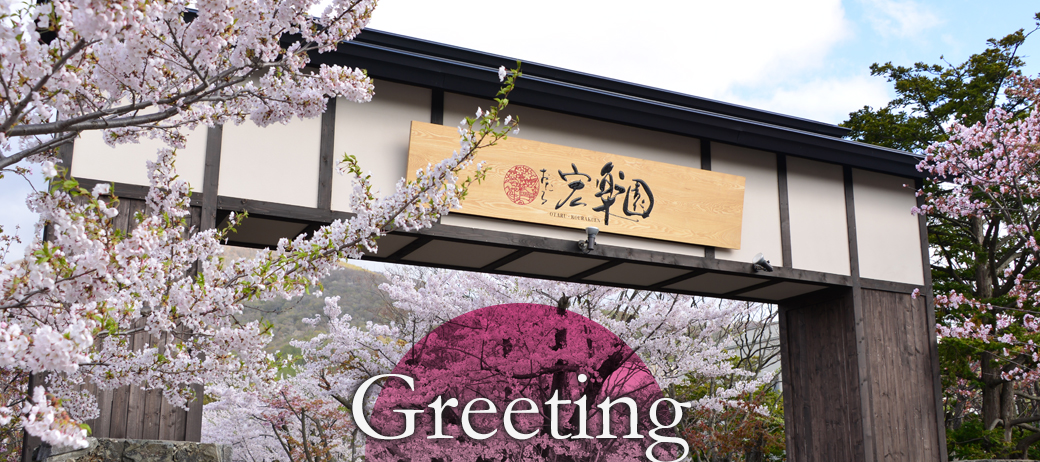 President
There are various purposes of travel
To play with your children in the themepark
To Refresh your mind after having busy days
To have luxurious time for special occasions
To go for work or to go home
They might not be always for the fun reason
Remembering the time when I was a child, just to get on a plane was a fun journey.
In our hotel, there are many customers who have various purpose of visit.
Not only the customers have many thoughts about our hotel, but also what I, the owner always think is what kind of costomers we want to provide the comfortability for.
The answer for it becomes always subjective, it gets closer to the place I want to visit after all. The reason our hotel became pretty calmed atmosphere is because I got old probably.
Ah I really hope it won't be rusty old hotel in 10 years
Okami
We are the Onsen Ryokan, Japanese-style inn, at a hot spring surrounded by the garden of the rich nature of Hokkaido, and 15 minutes drive away from famous Otaru canal.
Situated at the gate of Asarigawa Onsen area, and it takes about one hour from New Chitose airport and 30 minutes from Sapporo by expressway. The circumference of our vast site is a quiet residential area.
Owner two generations back has begun to built the garden, 26500 sq. with trees more than 100 years years old, from early Showa era, and now it is a famous place of Otaru where 200 cherry trees bloom in early May.
You can enjoy wisteria trellis and azaleas in late May and June, hydrangeas and the roses which we put great deal of effort in summer.
Autumn leaves of the end of October are my favorite seasons, and you may be moved by deep white snow in winter.
Number of our guest room is 34, and now 28 rooms have private open-air spa.
All hall is with tatami mats floor, so you can feel a traditional Japanese atmosphere.
We put seasonal flowers everywhere and welcome you with fresh spring water for your memorable stay.
The web site now you visit contains movies of seasonal garden, pictures of our cuisine and facilities. Please have a look and enjoy flowers and trees of our garden.
Wish to welcome you...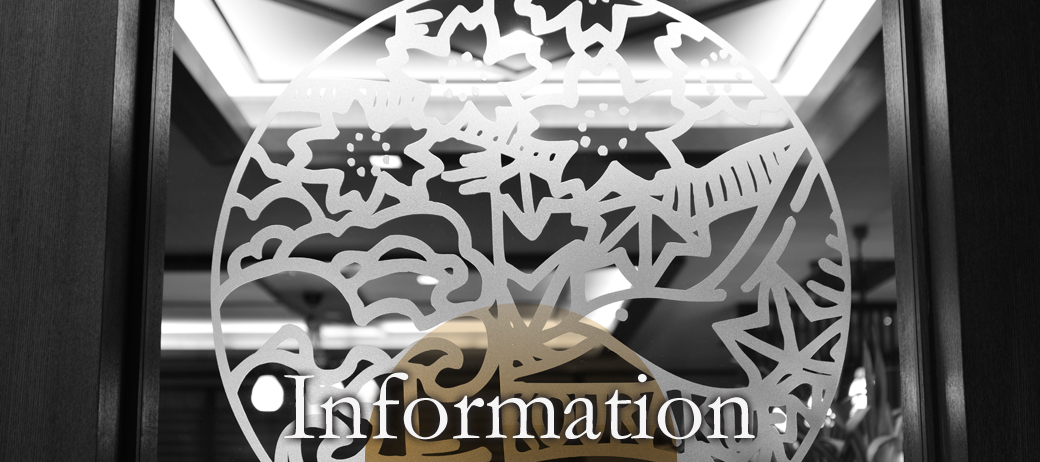 Accommodation facilities & more details
| | |
| --- | --- |
| Internet access | Yes(Wi-Fi) |
| Internet connection charges | No(Free) |
| Pets Allowed | No |
| Onsen hot springs on accommodation | Yes |
Charges
Service & tax

Service charge included
Consumption tax NOT included
SPA tax(150yen) NOT included
※ New Year, Obon ,seasonal periods such as the GW may be subjected to a different price.
Most common charge style
Room with Dinner and Breakfast included (per person)
Child
age 10~12 Dinner and Breakfast with Futon and amenity 12,000 yen.
age 7~9 Dinner and Breakfast with Futon and amenity 10,000 yen.
age 4~6 Dinner and Breakfast with Futon and amenity 6,000 yen.
age0~3 Free ※Option : Dinner only 3,000 yen
Payment
Cash,Credit Card(VISA,Master,Amex)
Cancellation
※Cancellation fee
2~3 day prior :30% of the room rate
1 day prior : 50% of the room rate
Accomodation day : 100%
ATM


Use international cash cards and credit cards to withdraw Japanese yen!

7-ELEVEN (Seven Bank ATMs)


Address : 047-0152, Shinko, Otaru City, Hokkaido 1-10-14, Japan
GoogleMap
Contact
| | |
| --- | --- |
| Name of accommodation | Otaru Kourakuen |
| Area | Otaru Asarigawa Onsen(hokkaidou) |
| Address | 18-2.Shinko 5. Otaru. Hokkaidou |